Deferred Compensation & Carried Interest
Niche compensation plan types that need to be part of your comprehensive compensation solution.
Compensation plans are not cookie-cutter. Most plans are nuanced and unique, which makes managing them complex and difficult. This is especially true if you are trying to manage them through a limited HCM comp module - which translates to managing them on complicated, time-consuming, and unsecured spreadsheets.
Based on our long history working with financial institutions, we designed our platform to handle the complex plan structures used at these firms. With Compose, you can plan Deferred Compensation and Carried Interest alongside merit raises, bonuses, and other short- and long-term incentives. One streamlined system gives you complete control and comprehensive information.
Managing all of your compensation through a single source provides efficiency and security while providing top-tier, real-time reporting and analytics, including the DEI and people data required to make informed business decisions. When you add the convenience of automated people pages and total reward statements to keep your team informed you have a complete compensation solution
We have put together a paper to guide you through how Compose can handle your complex plan types, like Deferred Compensation and Carried Interest.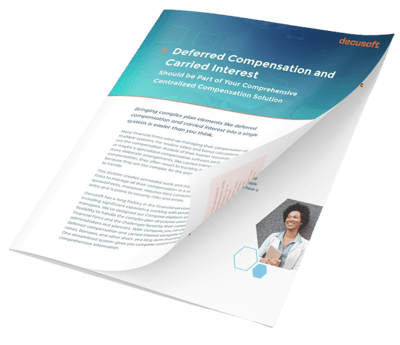 Download "Deferred Compensation and Carried Interest Should be Part of Your Comprehensive Centralized Compensation Solution" to read more.
Sign up for a Demo Today!
Transform Your Compensation
Do you want to learn more about how Compose can change the way you plan & manage compensation?
Contact us today, we'd love to hear about your challenges and show you how our easy-to-use, consolidated compensation system can improve your process.
Bringing complex plan elements together into a single system is easier than you think.
Contact us today!